RESEARCH
The Department of "Biochemical Pharmacology and Drug Design" had originally been established in 1964 as the "Department of Antimetabolites" and consecutively headed by Professor Alexander Spassov (1964–1980), Professor Evgeny Golovinsky (1981–2007), and Associate Professor Tamara Pajpanova (2008–2018). At the present the Head of the Department is Associate Professor Dr. Nikolay T. Tzvetkov.
The primary goal of our research is to understand biological processes at the molecular level with the ultimate aim to use this knowledge to tackle specific problems in human health – a task of continued importance and interest.
OUR DRUG DESIGN PROCESS
As the only research group in Bulgaria, we used a combinatorial X-ray/molecular modeling platform for early drug design that includes several advantages:
- Meaningful proposals of compounds – in silico evidence of virtual or existing (from our substance library) molecules followed by experimental confirmation;
- Quick understanding of the structure-activity relationships (SARs) – visual output for bonding affinities, torsions, structural proposals, prediction of binding modes etc.;
- Fast, industry proven and demonstrated success: We have obtained over 80% coinciding compounds between computer proposals and experiment.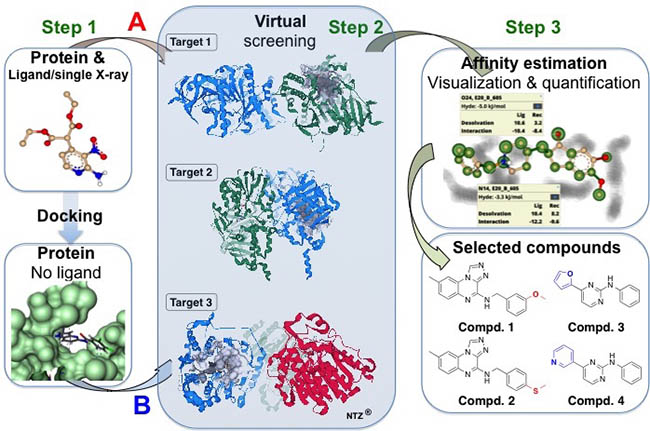 ..
DEVELOPMENT OF NOVEL SPECIFIC AND MULTI-TARGET LIGANDS
Our research focuses on the development of small molecules (synthetic, semi-synthetic) and natural compounds as selective or multi-target-directed ligands (agonists, antagonists) for G-protein-coupled receptors (neurotensin receptors NTSR1–3, purinergic receptors etc.) and enzyme inhibitors, particularly those involved in neurodegeneration, inflammation, pain, or tumor growth processes. Our research activities include: design and synthesis of new compounds (heterocyclic compounds, protein and non-protein amino acids, modified peptides and peptidomimetics, hybrid structures), including conventional, combinatorial and solid-phase approaches, virtual and in vitro screening, analysis of structure-activity and structure-selectivity relationships (SARs & SSRs), optimization of pharmacokinetic properties (ADMET profile), and development of innovative biological and physicochemical test systems. The small molecules developed are used as pharmacological "tools" for further in vitro and in vivo preclinical studies (in collaboration with other research groups). For some selective or multi-target acting ligands, which have been shown to have therapeutic potential, we initiate preclinical drug development programs in close collaboration with several research groups and industry.
DEVELOPMENT OF ANALOGS OF PROTEIN AND NON-PROTEIN AMINO ACIDS, PEPTIDES AND PEPTIDOMIMETICS WITH IMPROVED DRUG-LIKE PROPERTIES
Our research program includes also investigation of several aspects of peptide chemistry, including development of methodologies for peptide synthesis (analogs of peptide hormones and their precursors) and structural determination. A number of structural modifications of natural peptides have been performed to a novel series of peptide analogs (RGD and other small peptides) with improved physiological activity and resistance against enzymatic degradation. The Department has developed different synthetic strategies for replacement of natural amino acids by one or more non-protein amino acids in the chain of create so-called peptidomimetcs. Therefore, the preparation and characterization of new structural analogs of protein and non-protein amino acids are an essential part of the research activities in this program. We have prepared and investigated a series of peptidic ligands for opioid receptors (µ1 and µ2), including encephalin and endomorphin peptide analogs. Most recently, antimicrobial and proliferation inducing peptides and their conjugates also become a research area in our group.
MOLECULAR PROBES
The design and synthesis of molecular probes is a new research field of our group. In particular, we are interested in the development of new hybrid structures or precursors for further radiolabeling with possible biological and diagnostic applications, for example, as reference compounds for in vitro and in vivo studies or PET imaging.

DEVELOPMENT OF PRODRUGS
Design and synthesis of prodrugs – modified drugs that after administration can be metabolized into a pharmaceutically active compound – is a new research area of the Department. As solid backing, members of our group have long-standing experience in development of prodrug molecules. Only few new structures, including selective and multi-target acting antagonists and enzyme inhibitors with improved bioavailability and reduced risk of toxicity, have been developed so far.

MECHANISM OF ACTION AND APPOPTOGENIC EFFECTS OF ANTITUMOR AGENTS
One of the oldest field of research in our group involves studies of the cellular and molecular mechanism of action (MoA) of compounds that exhibit tumor-growth inhibitory activity. The anti-tumor activity of the newly synthesized compounds or well-established therapeutic agents is studied at the cellular level (cytotoxicity, effect on cell-cycle progression using different tumor cell lines) and at the molecular level (effect on the synthesis of DNA; RNA, proteins, and their precursors).